Warning: Use of undefined constant LIBXML_HTML_NOIMPLIED - assumed 'LIBXML_HTML_NOIMPLIED' (this will throw an Error in a future version of PHP) in /storage/content/53/148453/activerehab.se/public_html/wp-content/themes/Divi/includes/builder/functions.php on line 13353 Warning: Use of undefined constant LIBXML_HTML_NODEFDTD - assumed 'LIBXML_HTML_NODEFDTD' (this will throw an Error in a future version of PHP) in /storage/content/53/148453/activerehab.se/public_html/wp-content/themes/Divi/includes/builder/functions.php on line 13353 Warning: DOMDocument::loadHTML() expects parameter 2 to be int, string given in /storage/content/53/148453/activerehab.se/public_html/wp-content/themes/Divi/includes/builder/functions.php on line 13353
Physiotherapy and Behavioral interventions
"I love the ideas behind ACT, but the workshop led by the psychotherapist left me alone to figure out how to use it in my profession… I talk too much with the patient and this is not what I should be doing as a physio….!"
"The psychologists in our team are quite annoyed by us, physios doing quasi-psychotherapy."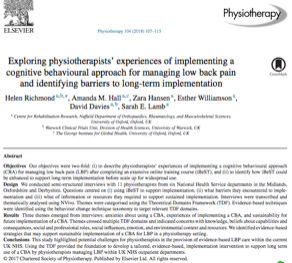 The implementation of cognitive-behavioral approaches (CBA) among physiotherapy generates anxiety, however, it can be reduced by the systematic and guided implementation.
That is probably the reason the informants in this study felt they needed more time for CBA interventions.
However, the Behavioral Plasticity framework differs in the sense that systematize the assessment and the intervention is very targetted and meaningful for the patient. They feel seen after 5 minutes and the work starts from the very first meeting, even in a group format. Extremely time-effective AND empathetic!
so what is the secret?
ACT is a psychotherapy build on evidence-based mechanisms of changes, called 'therapeutical processes'. ACTivePhysio model from the Behavioral Plasticity framework is also built on these same mechanisms, but operationalize them with
physiotherapeutic

tools instead. 
About the lack of guidance to implement behavioral principles into physiotherapy.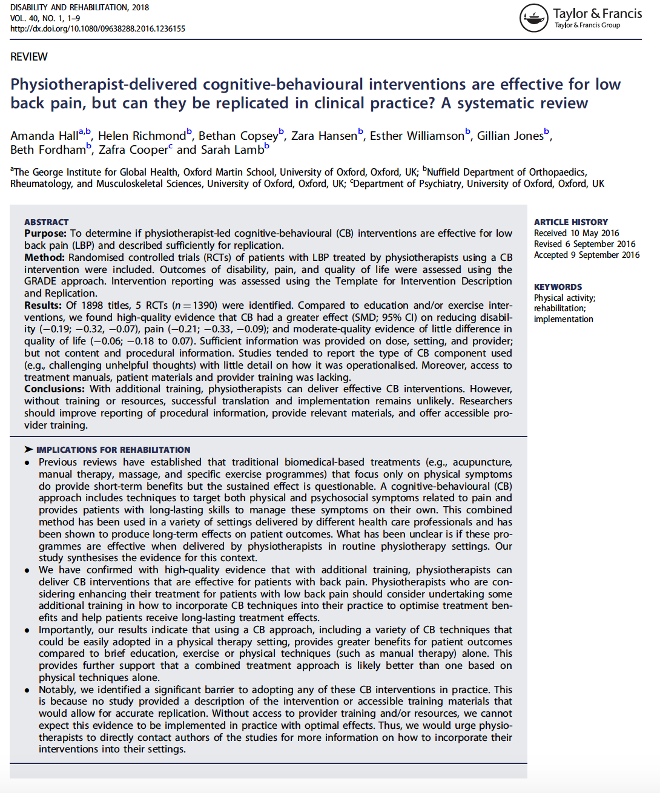 This review offer several interesting points, and opens space for some discussions. Basically the authors omit the perspective of behavioral approaches targetting function instead for targetting sumptoms, which is the biggest difference between CBT and ACT.
The authors assert that interventions that focus only on symptoms "do provide short-term benefits but the sustained effect is questionable". Behavioral approaches provide patients with long-lasting skills to manage their conditions and difficulties, nto their symptoms as the article asserts.
In this article is also recommended that physios working in the area of chronic pain "should consider undertaking some additional training in how to incorporate cognitive-behavioral techniques into their practice  […]" since combined with physiotherapeutical tools it optimise treatment benefits.
One of the mot important isues they identified is a significant barrier to adopting these practices. There is a serious lack of  structured and sytematiced guidance, training and/or resources to be able to incorporate and implement these principles into our practice. 
There is an imperative need of finding a model that ensures the delivery of  an evidence-based and behaviorally informed intervention among physiotherapists.
"The emBODyACT model helped me to understand the function of each of my physiotherapeutic tools and use them
in a more precise and effective way."
Assessing behavioral patterns
The Behavioral Plasticity Profiles delineate the way our patient relate to their situation and inform us about how to use the behavioral tools in our interventions. 
Behavioral principles into physiotherapy
ACTivePhysio guide step by step the implementation of the behavioral principle into our practice.
Structured training and guidance
The Behavioral Plasticity guides us to emBODyACT principles in our profession.
Psychologically informed physiotherapy or
"Process-based behavioral physiotherapy"?
The integration of psychological aspects into our profession is sometimes called "psychologically informed physiotherapy practice." This term can be problematic and may create misunderstandings.
Physiotherapy is indeed about changing behaviors, especially important (and more difficult) when working with individuals suffering from long-lasting or chronic conditions. Understanding the processes of changes requires a deeper understanding of behavioral mechanisms that prompt and ensure sustainable changes. 
The process of changes relays on the empirically developed theory of Functional contextualism and the Contextual Behavioral sciences. Then psychologists and psychotherapists operationalize the process with their verbal and psychotherapeutic toolbox.
Physiotherapy has all the opportunities to systematize and reorganize interventions in line with this science and offer impactful, effective, and long-lasting behavioral changes. The secret is to know how to prompt these same processes with physiotherapeutic tools instead of verbal or psychotherapeutic ones.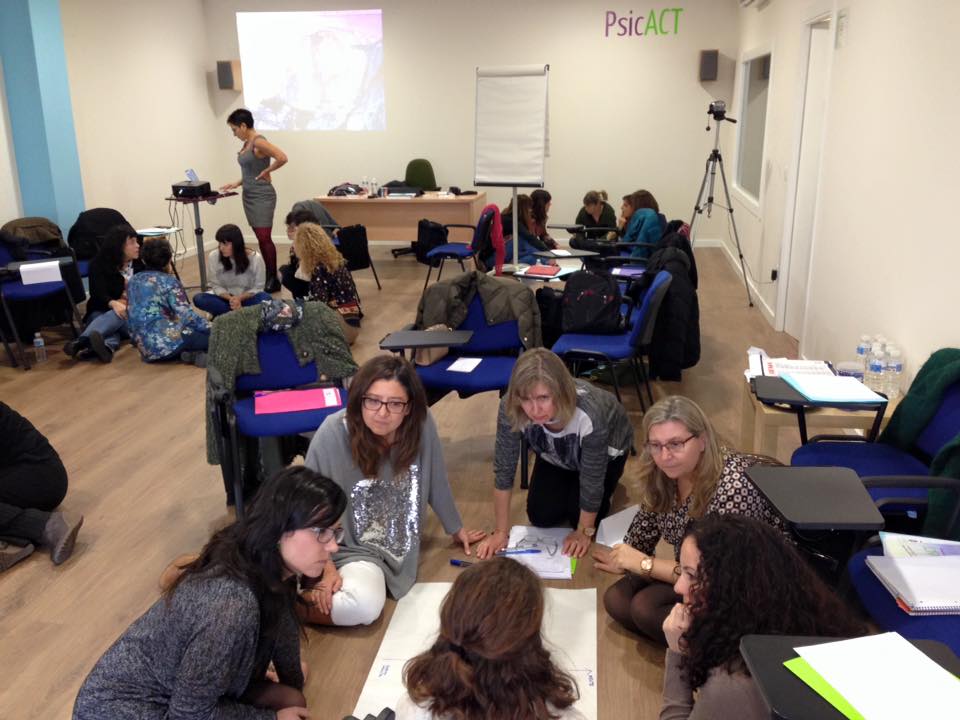 The Behavioral Plasticity framework applied into physiotherapy is
a
"Process-based behavioral physiotherapy"